Several months ago, I posted a link to a Panbo entry about an interesting device that uses the AIS protocol to send a short-range search-and-rescue homing signal.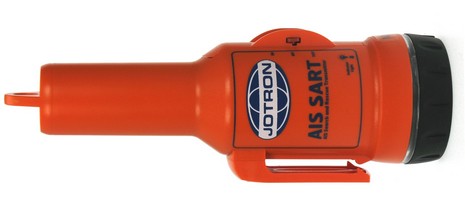 It's the Jotron AIS-SART, and I still think it's a clever idea. But I was just reminded that for many recreational (and even professional) mariners, selecting appropriate safety, rescue, and communication gear can be a little bit overwhelming. Bewildering, even.
Here's what made me think of this. Today, a new comment appeared on the Navagear item about this AIS-SART product:
"will the ais function where the iphone cannot receive a signal as in nome alaska"
First off, the simple answer is "Yes, it will function where the iPhone cannot." But the question itself appears to demonstrate a fundamental misunderstanding of the device. The AIS-SART is so totally unlike an iPhone that I've got to wonder if the reader really understands how this technology works. The question itself is not appropriate. A question such as "Will a claw hammer function in Nome, Alaska, where the iPhone cannot receive a signal?" is only slightly more inappropriate. "Um…yes. But why do you ask? What are you trying to accomplish?"
Now I'm not trying to "diss" the reader who left the comment. Not at all. The fact is that this technology IS confusing! And the unfortunate truth is that you need to wrap your head around the various technologies and the different products before you can make good purchasing decisions.
There are only a few places (such as The Offshore Store in Seattle) where you can get genuinely valuable advice to help you make these decisions. But those shops have a hard time competing against the online discounters, where you cannot, in general, get advice and assistance you'd want to stake your crew's lives on!
That leaves online discussion forums and blogs like Navagear and Panbo as primary resources for shoppers. And you STILL need to invest a lot of time and mental energy to feel confident about your decisions. It's a real obstacle.
Unfortunately, I don't have a clever suggestion about all this. Those of us who spend our time keeping up with the technology have a pretty good idea what the options are and which might make sense aboard various boats in different cruising grounds. I'm not claiming to be The Expert on this; but I've got enough information to make some reasonable suggestions. The trouble is that I don't have enough time to do this for each boater that might ask.
And let's face it: Sometimes we forgot that our readers aren't all propeller-headed geeks, too!
I wish I knew how this knowledge gap could be most effectively bridged. There are more safety gear options available than ever before, and one size does NOT fit all. How do we get appropriate products installed on individual boats?
Have at it in the comments, folks!